Are you in a 20th century or a 21st century law firm?  Lawyers produce, review and store massive amounts of paper.  If your law firm is not truly paperless its powers that be should be ashamed of themselves.  It's time to move your law firm into the 21st century and use technology to not only save your firm money by doing away with the cost of filing and storing paper, but also allow all law firm personnel to access client and internal firm documents in a matter of seconds.  This article describes exactly how my small law firm became a paperless law firm.
My small law firm has been 100% paperless since March 2004.  Here are some important facts about our paperless law office:
We have 190,000+ documents in our paperless system.
Our lawyers and staff are able to find any client document in 5 – 10 seconds and have the document displayed on a computer monitor.
All of our documents are viewable over the internet from any where in the world.
Each attorney can apply security (or not) to restrict access to a document to authorized firm personnel.
In 2004 I practiced law alone with no support staff other than my wife who was also my paralegal, secretary, bookkeeper and file clerk. We went 100% paperless in March of 2004. We do not keep hard copies of any documents.
I have a very high volume, document intensive practice. When I first wrote this article on October 29, 2005, my wife and I had saved 970 documents (46 documents a day excluding weekend days) in the previous month. Most documents we save are documents we create, but we also scan and save a lot of incoming correspondence and other documents. I can easily determine how many documents we save a month by looking at the document number (in my document management system) of the first document we create in any month and the comparing that number to the number of the latest document we create in a month.
For a solo or small firm, it is very easy and relatively inexpensive to create a paperless law office. I am extremely happy I made the switch. I can find any letter, document, notes of a meeting, Excel spreadsheet, .pdf document, Power Point Presentation or piece of paper that relates to a client, matter or contact in a few seconds and have it displayed on my computer monitor. It's a wonderful thing.  All of our six attorneys and our legal assistants and secretaries love our paperless system because it is much easier and less time consuming than filing hard copies in a file in a file cabinet.
My small law firm now has four attorneys and four legal assistants. We continue to create a lot of paper documents – over 1,500 a month.
Why Paperless if Good
There are several reasons why a paperless office is the way to go:
It saves the time and expense of having people file documents in traditional hard copy files.
It saves the expense and headaches of file storage.
It saves the expense and time delay of getting documents from closed storage.
It's green and doesn't adversely affect the environment.
If your building is destroyed or your office vandalized, your documents are safe and not affected (assuming you have a proper backup system).
With a good document management system attorneys can attach security to every document so that only authorized people can access the document.
It allows firm lawyers and personnel to have almost instant access to documents.
My favorite reason for being paperless is the last item. If somebody calls and asks me a question about a document in our system, I can find and open a signed copy of the document in pdf format in a matter of seconds. People who do not know we are paperless are frequently shocked that I can access their document so quickly.
Hardware & Software Needed to Go Paperless
Here's how we went paperless:
1. In 2004 I bought two Xerox Documate 252 scanners (one for me and one for my wife, my legal assistant) for about $900 each. It's about the size of a shoe box and sits next to our flat panel computer monitors. It has a very small footprint.  Now every attorney and legal assistant has a personal scanner on his or her desk.  Personal scanners on people's desks are absolutely necessary if you truly want to be 100% paperless.  You must make it simple and convenient for everybody in the firm to scan documents and input the documents into your document management system (another must have item of law office technology).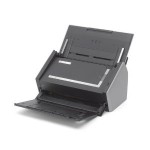 Scanner Advice: The scanner I now buy and recommend you buy is the Fujitsu ScanSnap iX500 Scanner for PC and Mac.  Amazon sells this scanner for $400 – $450 (Amazon varies the price).  This is a smoking deal – you get a 25 page per minute color personal scanner that comes with Adobe Acrobat X standard software.  Acrobat is needed so that scans open automatically as pdf files.  We love this scanner.  It's the size of a shoe box.  It has a 50 page sheet feeder and can scan business cards and color photos.  For more about this scanner real my article called "The Fujitsu ScanSnap ix500 – A Great Law Office Scanner."
The scanners you see in computer stores like Best Buy, Staples and Office Depot are slow home use type scanners. When you shop for an office scanner, you want speed (at least 20 pages per minute) and a sheet feeder that takes at least 25 pages. If the scanner on sale doesn't prominently display its pages per minute scanning speed, it means the scanner is much too slow (a few pages per minute) to use for anything other than infrequent home scanning. Years ago I bought three HP 3380 4 in 1 printer, scanner, fax and copiers for $700 each. They print, fax and copy great, but the fastest I could ever get the HP 3380 to scan was 2 pages per minute in black and white at 300 dpi. Very fast high volume scanners are several thousand dollars and up, but most small offices don't need that kind of speed (50+ pages per minute). Manufacturers of medium and high speed scanners display the scanner speed because that is one of the main features buyer's seek.
2. All lawyers and staff have Acrobat XI Standard Win
[Download]. I have the Acrobat Professional XI Windows [Download] version (approximately $400) and everybody else has the standard version (approximately $299).  This is one software item that every lawyer who wants to be paperless needs.  We actually have a multiuser version of Acrobat 9 standard on our server.  I use Acrobat Professional XI Windows [Download] to create pdf fillable forms.  It's great.  For an example of an online engagement agreement that is typical of those I use to create for my law firm see my Arizona LLC Formation Agreement.  Prospective clients can save the document on their computer, fill out the form, save it then email it to us.  We make pdf fillable client engagement agreements and data intake forms and other forms for internal office use only.  Update:  We have replaced many of our pdf engagement agreements with a WordPress plugin called
Gravity Forms
.  I love Gravity Forms.  My
LLC Formation Questionnaire
is a Gravity Forms smart form.
3. Our computers are on a network. All data files are saved on the server. Our system makes daily backups to the cloud.  We use Mozy Pro and Jungle Disk for automatic backs over the internet to a secure web storage site.
4. We use Time Matters for many things, including document management. I've used Time Matters since 1998. It is an incredible program without which our productivity would be drastically reduced along with a corresponding reduction in income. I bought my first document management program (PC Docs – later Docs Open) in 1992 for $350 a user. I believe that EVERY (w/o exception) practicing lawyer who has a lot of documents should use a document management system. Having a document management system is one reason I can find any document I seek in a few seconds.
That's all the hardware and software we used to make our 100% paperless office.
Paperless Office Procedures
Here's how we actually do the paperless thing:
1. When we receive a hard copy of a document or if we create a document such as a letter or contract, we either scan it with a scanner (if it's in hard copy format) or "print" to Adobe .pdf (if it's in Word format) to create a pdf version of the document in a few seconds. Having a personal scanner at our desks is critical for a successful paperless system. You want the user/office personnel to be able to scan the document contemporaneously with creating or handling it. The user is best able to determine the appropriate information for the document to input in the document profile. You must indoctrinate your staff to do contemporaneous scanning and saving to get maximum efficiency, staff productivity and attorney ability to access scanned documents in the system.
2. To scan a hard copy of a document, we insert the document (up to 50 pages for the sheet feeder, but I usually limit it to around 25 pages to reduce the chance of a paper jam) into the sheet feeder of the Xerox 262. If the document is letter size, we press the simplex or the duplex button on the scanner and the scanner then scans the document at about 25 pages per minute. If the document is legal size, I press another button to change to scan format #2, which is legal size paper. I then press simplex or duplex button to start the scan. We scan at a resolution of 300 dpi (preconfigured in the Xerox 262), which produces a good quality printed version of the document.
3. In a few seconds or maybe a minute if the document is 25 pages, the document automatically appears on the screen in Adobe .pdf format, even if Adobe was not previously loaded.
4. We click on the TM save icon in Adobe Acrobat, which causes the TM document profile screen to appear on the screen. To add a document to the TM document management system, the document must be saved using TM's document profile.
5. In 10 – 15 seconds we enter the following information into the TM profile: document code (PN for promissory note, OA for Operating Agreement, etc.), the name of the document and the client, matter or contact. By pressing F2 in the appropriate field or by typing the client, matter or contact info, TM will find the desired client, matter or contact. TM automatically inserts the initials of the person creating the document, the date and time of creation, the next document number, and most importantly, the document file name and file location on the network. We've configured TM to use its automatic naming feature and to automatically create a file name equal to the document name and save it in a folder under the client, matter or contact name. TM's file naming and file saving location configuration feature is very robust and gives the user many options and a lot of flexibility. If needed, TM will automatically create the folder where it saves the file.
Step 5 is the last of the steps needed to free your office from paper. I did two test scans, one with a 35 page document and the other with a five page document. One minute and 45 seconds from pushing the scan button, I had scanned the 35 page document, converted it to Adobe .pdf format, created a document profile in TM and saved the profile and pdf file. The same process from start to finish for the five page document was 40 seconds.
Ask yourself how long would it take your secretary or file clerk to file a hard copy of a document. The filer must find and obtain the hard file, punch holes in the document, physically tack down and file the document in the file, then return the file to the appropriate location. Not only does hard copy filing take a lot longer than paperless filing, but it might take days or weeks before the document actually is filed in the client or matter file.
The old fashioned method of filing hard copies is inefficient, costly in terms of staff time to file, a waste of expensive office space for row after row of file cabinets, a waste of time for lawyers and staff to find and deliver files to personnel, and expensive to store long term.
As for setting up the hardware and software and training staff to scan and save into TM, any good TM consultant should be able to configure a scanner and TM's document management system and teach users how to do operate the paperless system in a very short period of time. I taught my wife how to scan and save in TM in a 20 or 30 minute session. It really is just as easy as I made steps 1 – 5 above seem.
Practical Note: If you convert to a paperless or semi paperless office, don't waste the time, money or energy to scan and index existing documents and files except those that are actually being serviced at the time and inactive files that you think you will need in digital format in the near future. Start fresh and scan going forward. Most of your old files will rarely if ever be accessed so it does not make sense to convert the inactive files to digital files unless it is for the purpose of eliminating file and storage space.