Hewlett Packard Laserjet Printers
Ever since 1985 when I bought my first Hewlett Packard laser printer I have only purchased and used laser printers in my law practice.  I am biased towards Hewlett Packard laser printers because in my experience they are fast, produce high quality text and never need maintenance and produce high quality text output.  I've probably owned about 20 of them over the years and can only remember calling a repair person one time to fix an ailing HP Laserjet.
The first HP Laserjet printer hit the market in 1984.  It was a 300-dpi, 8 ppm printer that originally sold for $3,495, but the price was reduced to $2,995 in September 1985.  I bought the original HP Laserjet printer in 1985 for $3,000.  Can you imagine paying that kind of money today for an 8 ppm printer?  The printer replaced an impact printer that I was using to print documents and letters sent to clients.  Laser printers produce the best quality text.  I would never print documents on an inkjet printer and send them to clients or anybody else.  HP has sold over 100 million Laserjet printers.
In 2001 I bought two HP Laserjet 3300 printers.  These were great four in one printers that included a fax machine, scanner and copier.  The machine had a 50 page sheet feeder.  It also had a top that could be lifted to copy over-sized paper or open books.  I  still have one of them that we use in the office solely as a copy machine.
HP 2055DN Laserjet
Now I give everybody in my firm a personal HP 2055dn Laserjet printer.  The printer is relatively small and fits easily on a desk or small table.  It only prints in black, but at the high rate of 35 ppm.  The HP 2055dn Laserjet also does automatic duplex (both sides of the paper) printing.  As of the date of this post Amazon is selling the printer for $349.  If you don't want duplexing then get the HP P2055D Laserjet for $249.  Amazon sells the HP 05A black toner cartridge for these two printers for $72 today.  The average cartridge yields 2,300 standard pages.
I believe that everybody in the office who produces paper should have a personal printer to increase their productivity and make them more efficient.  These HP 2055 printers are relatively small and inexpensive.  They are also fast even when printing on both sides of the paper.  They print high quality text.  Do your staff a favor and buy enough of these printers so they do not have to share with other people.  The HP Laser printers are also very reliable.
Xerox Phaser 6360 Color Laser Printer
My firm also has one high speed laser that we use when we have big print jobs.  I form 40 – 50 Arizona limited liability companies every month.  We prepare about 350 pages of text for each one.  For big print jobs we use the Xerox Phaser 6360 color laser printer because it is very fast – 42 ppm including duplex printing.  We print our longer documents on both sides of the paper to save paper and reduce the size / number of pages we put in the LLC portfolio.  I do love this printer, but it has two issues you need to know about: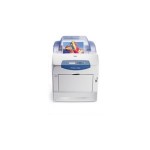 Black toner cartridges are reasonably priced, but the three color cartridges are pricey.  We do print a lot of documents with a little color (not very much actually) to give the page a better look so the cartridges do last a long time.
You  must purchase an annual maintenance plan (approximately $400/year) after the original manufacturer's warranty expires.  I've had two of these machines the last five years.  The first one broke and we didn't have a maintenance contract so it was cheaper to buy a new one.   Our current Phaser 6360 has needed the maintenance guy three times in two years.  If you don't have a maintenance plan it will probably be cheaper to buy a new machine that fix the broken one.  Xerox techs are very expensive when you pay them by the hour.