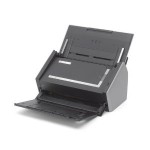 There a tons of scanners on the market so the choice of a scanner for your law office can be daunting.  You can spend a lot of time researching scanners and then take a chance on one or you can follow my advice and purchase the scanner used in my law office that does a great job for a relatively small amount of $$.  I have been scanning documents since 2001 and have been 100% paperless since March of 2004.  For more on the paperless law office read my article called "A Simple Inexpensive Way to Create a Paperless Law Office."
I bought the first scanner for my law firm in 2001.  It was a multi-function Hewlett Packard Laserjet 3300 printer/copier/faxer/scanner.  The machine was great at three of its four functions, but as a useful law office scanner the HP 3300 sucked big time.  The problem with the the HP 3300 was it only scanned at two pages a minute.  That may be ok for home use, but it just doesn't cut it for use in a busy law practice that does a lot of scanning.  Attorneys typically create and receive a lot of paper so they need a fast scanner, i.e., at least 20 pages per minute (ppm).
In 2004 when I went paperless I researched the scanner market and purchased two Xerox 252 scanners for approximately $700 each.  We still use both of these scanners.  I do recommend this family of scanners (see the Xerox DocuMate 262i Color Duplex 38 PPM 76 IPM ADF Scanner for $715), because they are fast (38 ppm) and do a great job, but so is my favorite scanner, the Fujitsu ScanSnap iX500 Instant PDF Sheet-Fed Scanner for PC.  The ScanSnap iX500 is only $415 (Amazon varies the price – it was $301 for two days in May) and it comes with Adobe Acrobat XI standard (a software program almost everybody in a law firm should have on their personal computer or on a server).
I recommend that all  lawyers (except those that are tech-retarded), legal assistants and secretaries in a law office have a personal scanner on their desk.  The best way to be paperless is for the people who know a particular document best to take a minute or two to scan the document then save it in the law firm's document system.  Do not create inefficiencies, bottlenecks and added expense by letting people send their documents to a designated scanner who scans docs for a large number of people.  The best time to scan and save the pdf file is when you get the letter or the document.  You know best where the document should be saved and how to name it.  Once saved the document is now on your system to be accessed and viewed by others in your firm (unless you attach security to the document using your document management system).  If your firm does not have a document management system it should.
My Law Office Scanner Recommendation:  the Fujitsu ScanSnap iX500

I recommend that attorneys and law firms buy the $415 – $450 Fujitsu ScanSnap iX500 Scanner for PC and Mac
.  I have several ScanSnaps. Here are the reasons your law firm needs this scanner:
Fast scans:  25 ppm in color and faster for black and white.
Small:  It is about the size of a shoe box.
It comes with Acrobat XI Standard]. This is a $279 (as of 1/19/14) stand-alone software program.
Scan to: PDF, searchable PDF, JPG, Word (editable), Excel (editable).  It also scans business cards and zaps the data into an organizer.
Automatic duplex scanning
Easy to use.  Drop the document in the scanner and press the scan button and your five page document will appear on your computer monitor in Adobe pdf format in about 15 seconds.  You can then save the document, attach it to an email message or print more copies of the document.  No need for a stand-alone copy machine any more because everybody that has a scanner can scan and print as many copies of the scanned document as needed.
Buying the Fujitsu ScanSnap iX500 Scanner for PC and Mac (PA03656-B005)
scanner is a no-brainer because you get such a smoking deal – Acrobat XI for approximately $279 plus the ScanSnap iX500 for a little bit more.  When you buy this scanner from Amazon you are literally paying only $100 = $160 for it.
Acrobat XI Standard
is a necessity for the scanning because it is the program that converts the scanned document to pdf format, the universal document file type.
Twain Compliance
From time to time I read on email message forums that lawyers do not want to buy the ScanSnap iX500 because it is not "twain" compliant.  I have no idea what that means, but I can tell you that in the eight years my law office has been 100% paperless we have never needed a twain compliant scanner.  To learn more about twain and why the ScanSnap iX500 is not twain compliant and does not need to be read "Why Doesn't ScanSnap come with TWAIN drivers?"